What's new in CalendarsQuick?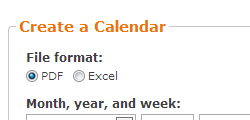 Excel calendars merged
We've merged the Excel templates with their PDF counterparts in an effort to make navigating and using CalendarsQuick easier. For instance, the Excel Custom Weekly can now be found on the Custom Weekly page.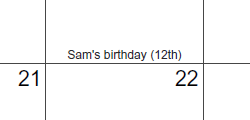 Auto-Age
See ages for birthdays and anniversaries from your special occasions list in the calendars you download. To enable auto-age in your calendars, simply click the "Settings" link at top, then check the "Show auto-age..." option.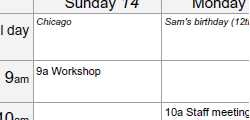 Other recently added features

Google Calendar Integration
Import events from Google Calendar into your printable calendar downloads. To link your Google Calendar account to CalendarsQuick, start at the My schedules page under "Settings".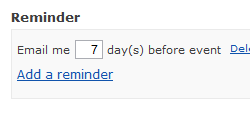 Email reminders
Never forget an important event again. Simply create a new event or special occasion, choose how many days in advance you'd like to be reminded, and we'll email you when that event is near.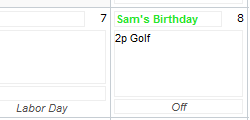 Text alignment and font colors
In My Schedule, there are now 3 sections for aligning text to the top, middle, and bottom of your calendar boxes. Your text appears in printed calendars just as you see it in My Schedule. Choose a color for each section to call out certain types of text, e.g. birthdays and anniversaries in green.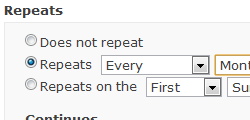 Recurring events
Include repeating events in your web calendar, Excel calendar files, and schedule-supported PDF calendar files. Simply click the "Create event" link from the My Schedule page. Learn more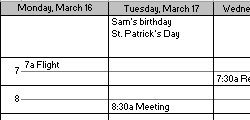 Weekly Planner schedules
Create Weekly Planner files with your schedule, special occasions, and holidays already filled in. Your holidays and special occasions appear in the top box for each day. Appointments appear in the middle section, and tasks (untimed items) show in the bottom rows. Available for the PDF Weekly Planner and Excel Weekly Planner.