Yearly Printable Calendar With Notes
Create yearly calendars with a column for notes (Landscape format) or bottom row for notes (Portrait format).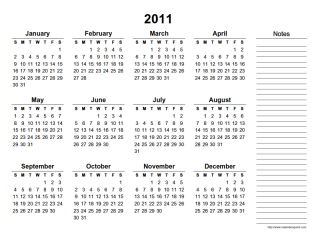 See Larger Images
You must be
logged in
to download this calendar.
If you do not have an account, you can sign up for full access to CalendarsQuick which lets you download calendars for any week, month, or year.
Features and Customization Options
Adobe® PDF format (Requires Adobe Acrobat Reader)
Multi-year access (Create calendars for 2018, 2019, or any other year, 1 AD - 10,000 AD)
Customizable start day (any day, Sunday through Saturday)
Portrait and landscape orientations
Letter & A4 paper size options
Multiple language support (English, Español, Deutsch, Français, Italiano, Danish, and Nederlands)