PDF Templates
74 templates let you download calendars in PDF format which is an excellent format for printing.
Excel Templates
23 Microsoft Excel templates are available to let you more fully customize a calendar. You can change grid colors, adjust box sixes, add images, and edit fonts within Microsoft Excel to create that perfect calendar.
The Excel calendar templates are denoted by a PDF + EXCEL or EXCEL ONLY badge.
The download form for the Classic Monthly calendar looks like this:
Here are some of the things you can do with the calendar formats on this site:
Print your own planner refills
Combine the activities of all your family members onto one at-a-glance monthly family planner for the fridge so you can stay on top of everything
Print a yearly calendar for your wall or planner (lots of paper sizes to choose from)
Organize your days with weekly planning sheets that have sections for to-dos, appointments and notes
Save time with monthly calendar inserts for your Bullet Journal
Plan this week's dinner menu with a weekly meal planner
Print a humongous poster calendar for your office or team room
Print unlimited photo calendars for your home or office
Log far-future appointments and activities into a multi-month calendar
Track something throughout the year
Create a 13-month school calendar
And much more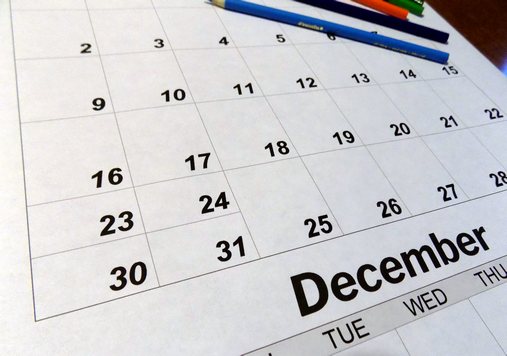 Including Your Schedules
You can save your tasks, repeating events and notes into an easy-to-use web calendar, and choose from more than 30 calendar styles for printing out your schedule. This web calendar is different in that it lets you both directly type in text-only events (for speed) as well as create events that can have more information attached such as notes, repeating info and email reminders. Learn more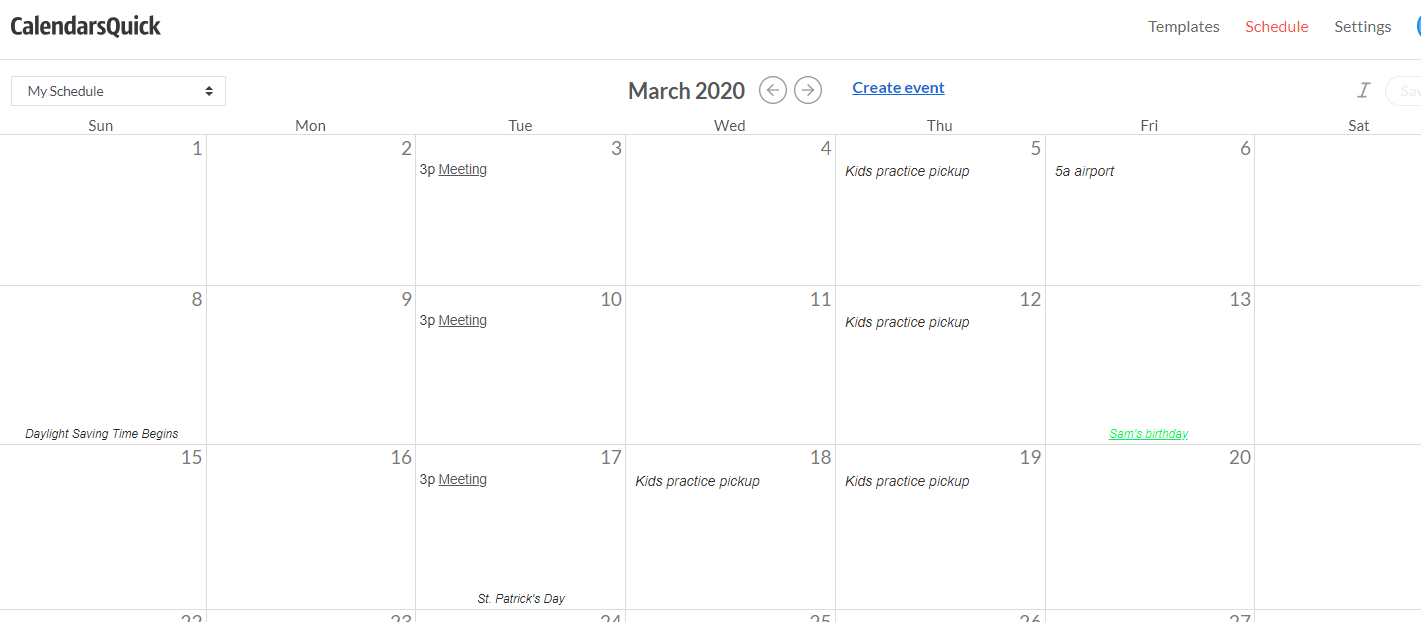 Publishing a Schedule
It is possible to make your CalendarsQuick schedule public so that you can share it with others. You can email the link or add it to your website. Learn more

Google Calendar Prints
Once linked, you can print your Google Calendar out more than 30 ways including multi-month views, poster calendars, photo calendars, weekly planner pages and more. Learn more
Multiple Schedules and Color-Coding
Choose which CalendarsQuick web schedules and/or Google Calendars to include in your printouts. In the PDF downloads, you can choose whether events use the schedule's color or a single font color. Learn more

Birthdays and Special Occasions
With a CalendarsQuick account, you can add annual special occasions once to your account to be automatically included in each of the calendars you download.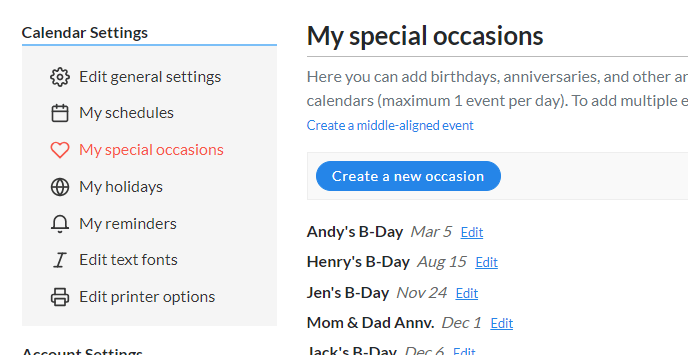 With the "auto-age" feature enabled, you can add the "start year" to a special occasion and the calendar will show the age of the birthday or anniversary on your calendars. Learn more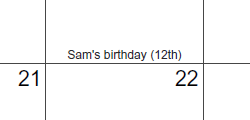 Email Reminders
Easily set up reminders for important upcoming events, birthdays and tasks to be emailed to you ahead of time. Up to 5 email reminders can be attached to an event, which can be set to email you from 1 to 90 days in advance. Learn more
Personalizing With Photos
Easy-to-use photo calendar templates let you upload your favorite pictures to create photo calendars you'll enjoy month after month. Automatic photo resizing makes the process fast and simple, and there are no limits to how many calendars you can make.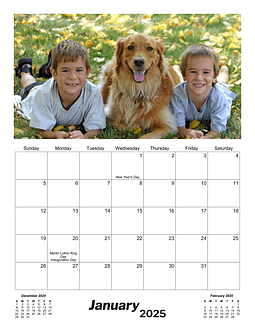 Customizing Your Calendars
Week start day
Each calendar template (including yearlies) lets you set your start day to Sunday, Monday, or any other day of the week. When logged in, it can be a default setting in your account so you do not have to change it before each download.
Setting your language
You can change the language of your calendars to one of English, Español, Deutsch, Français, Italiano, Nederlands or Danish.
Choose your holidays
You can choose which holidays to include in your calendars by country and religion. Supported countries include the United States, Canada, the United Kingdom, and Australia. Also supported are holidays for the Christian/Catholic and Jewish religions.
Choose your paper size
All calendars are of 8.5" x 11" (Letter) size, with selected calendars available in other paper sizes such as 3.5" x 6" (Pocket), 3.75" x 6.75" (Personal), 5.5" x 8.5" (Classic), 210mm x 297mm (A4), 8.5" x 14" (Legal), 11" x 17" (Ledger) and 36" x 48" (Poster/Arch E)
If you have paper size requirements other than Letter size, please be sure to check the Paper Sizes page before signing up.
Black & White
If you do not prefer grayscale, there is an option you can set in your CalendarsQuick account to print all calendars in black and white by default.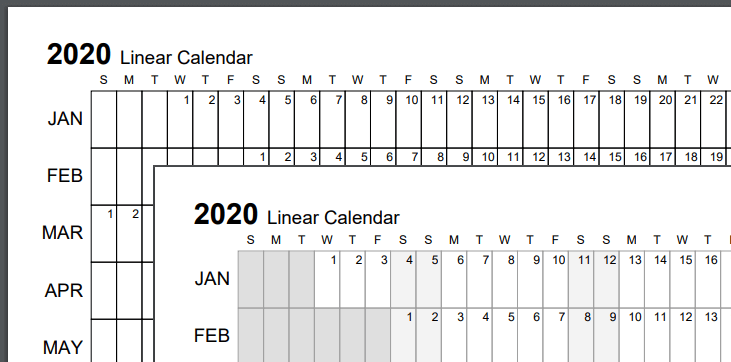 Unlimited Dates Access
When you subscribe to CalendarsQuick, you get unlimited access to all of the calendar templates on this site during your 12-month subscription period. Create and print as many calendars as you need, as often as you need them - for 2023, 2024, or any other year between 1 AD and 10,000 AD throughout your subscription period.
Help and Support
If you run into an issue or need help, feel free to email us directly or use the contact form which will start an email support ticket and we'll get back to you within 24 hours. There is also a comprehensive help guide which walks through how to use CalendarsQuick and illustrates how the different features work.
No Risk
CalendarsQuick is backed by a 100% Satisfaction Guarantee. If within 60 days, you want to cancel your subscription for any reason, simply tell us and we will refund you the full purchase price, no questions asked.
This 12-month subscription is non-recurring, meaning there are no automatic renewals or billing.